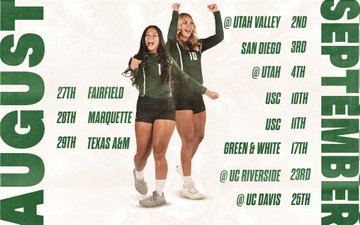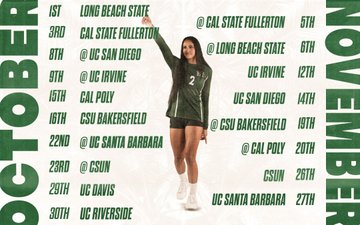 Aloha all. Apologize for lack of posts. Still limited after accident.
---
Hawai'i women's volleyball released its fall schedule today. Think the last match to be settled was the Utah Valley one.
No word on fan attendance.
And no word on the status of Jolie Rasmussen. When she didn't play beach I was told she was sitting out to get ready for indoor But on the release didn't mentions her as one of the returnees. Have asked UH about it but haven't heard back. Will update when can.
UH still the lone wolf, with no travel partner. That was something former coach Dave Shoji agreed to for one year but it has stayed in place for over five. It means Hawai'i is the only match of the week for the other 10 teams while the Wahine have two matches every week. playing on back to back nights except the Riverside-Davis road tirp and home matches that conflict with football on Saturday. Those matches are on Fri-Sun.
From UH:
After more than 20 months without Rainbow Wahine volleyball, the University of Hawai'i volleyball program is just weeks away from their 2019 Big West title defense season as the 2021 schedule was announced Friday morning. Hawai'i will face two PAC-12 schools, a SEC school and two 2020 NCAA Tournament contestants during the 2021 season.
"We are very excited for the upcoming 2021 season," Wahine head coach Robyn Ah Mow said. "These women, along with the other 10 Big West programs have been waiting for this opportunity for the last year and a half. I can confidently say that the Rainbow Wahine are eager to step onto the teraflex on Aug. 27 against a very good Fairfield team.
"This schedule will be great competition against teams that will do well in their respective conferences and will prepare us for our 20 match conference season."
The Rainbow Wahine will open the season with a tournament in SimpliFi Arena at Stan Sheriff Center comprised of Fairfield, Marquette and Texas A&M before heading on the road to Utah for off-island non-conference games for the second-consecutive season. Hawai'i's first game against Fairfield will be the first women's volleyball match played by the Wahine in 623 days.
The Wahine will play Utah Valley in Orem, Utah before playing in the Utah Classic in Salt Lake City, hosted by the University of Utah. Hawai'i will play San Diego and Utah in the tournament.
Hawai'i will then return home for two matches against USC Sept. 10-11, followed by an Alumni/Green and White game on Sept. 17.
UH will have 20 conference matches in 2021, up from the previous 16 home and away matches the conference used to play as the Big West welcomed UC San Diego and CSU Bakersfield to the conference in 2020-21.
The Wahine will open Big West play on the road at UC Riverside with travel up the state to UC Davis the same weekend.
Long Beach State and Cal State Fullerton will open the home Big West slate Oct. 1 and 3 before the Wahine face Big West newcomer UC San Diego in San Diego.
Hawai'i will host CSU Bakersfield in SimpliFi Arena at Stan Sheriff Center on Oct. 16.
Senior Day will be against UC Santa Barbara Thanksgiving Weekend on Nov. 27 before the NCAA Tournament is set to begin Dec. 2 at to be determined host sites.